The Nerdie Guide To Using Clay Masks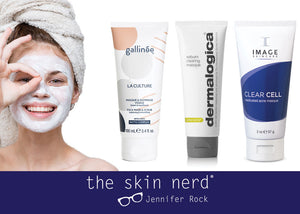 Do you feel like you've nailed your nerdie routine now but masks still have you stumped? Or are you a bit of a connoisseur just in want of pro masking tips?  
Never fear, we are here! 
Masks are much beloved at Nerd HQ. We fight over sheet masks, we compare hydration masks but we never forget about clay masks, a more traditional art form. 
What are clay masks? 
The clay mask is a staple of the skincare routine, being one of the first types of masks that you probably used. In essence, they're simple enough - the main clay you'll find in clay-based masques is kaolin or white clay. Kaolin is naturally porous and in this, it is absorbent - no more blotting with kitchen roll! 
This absorbing quality means that clay masks that contain kaolin can mop up excess oils to help prevent congestion and draw impurities out from the skin. 
Now, of course, why use just kaolin with it's soothing, oil-sweeping capabilities when you can add some superstars to it? Many clay masks on the market (and on our store) contain hydrating ingredients and active ingredients like salicylic acid or lactic acid to up the ante. 
The Gallinée La Culture Face Mask (& Scrub, but we ignore that part, €15.00) is a clay-based mask that contains their signature biotic complex (prebiotics, probiotics and lactic acid).
The lactic acid is going to help to exfoliate and hydrate the skin and the topical probiotic will help to soothe the skin and rebalance its own microbiome - yep, your skin is covered in loads of bacteria that sometimes need a bit of management. 
It also contains vitamin E, which you surely know is a potent antioxidant. What we're saying is that it's kind of a steal considering it's only €15.00... and it's available to all on the store, even if you're counting down the days until your first consultation with us. 
How to apply clay masks
When it comes to clay masks like the Gallinée La Culture Face Mask, we personally prefer application with a clean brush. If you don't have a specific clay mask brush, a clean foundation brush - the type that looks like a paintbrush that tapers in at the end - will do the job! 
First, cleanse your skin thoroughly with your regular cleanser, unless you've been advised otherwise by your Nerdette, and then gently paint the mask all over your damp face... Alternatively, you can just put it in areas that need a bit of a decongesting or a brightening. 
How to remove clay masks
Leave it on for between 5-10 minutes depending on the specific mask. Here is where we do things differently... Don't pull it off yourself with a hard face cloth. Clay masks usually dry on the skin and trying to wipe it off by tugging at it will just irritate your skin. We recommend a pressing motion, as if you're trying to absorb the mask into your wet Cleanse Off Mitt (€5.95). 
If it's still dragging, wet the dried mask with your fingers and try once more. 
Follow it up with your usual serums and moisturisers but do be careful not to overload on exfoliating acids if they're in both your mask and your serum. 
More clay masks we love 
The Dermalogica Sebum Clearing Masque (€41.00) is a congestion godsend as it contains kaolin and bentonite clay, 0.5% salicylic acid (the ideal amount to help exfoliate and clear the pore without being too drying on dehydrated skins). There's a bit of niacinamide and liquorice root extract in there too to help with pigmentation (redness post-spots). 
For a bit more power and for a skin that's well used to exfoliating acids, there's the IMAGE Clear Cell Clarifying Acne Masque (€36.00) which contains a 5% blend of salicylic and glycolic acid for a thorough exfoliation. Does this sound drying? Don't worry, there's hyaluronic acid in there too. 
If either of these sound good to you, contact us by virtual nerdie chat (the bubble in the right-hand corner of the store), by email at consult@theskinnerd.com or mention it in your follow-up consultation and it can be made available for you on your store.