The Shkin-ny On ZENii Supplements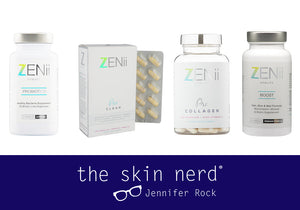 Skincare supplements have always been an integral part of our philosophy here at The Skin Nerd and for good reason too. There is only so much we can do to try to send messages to the dermis from the outside - eating our skincare sends all those skingredients to the dermis through our bloodstream. 
We're delighted to start stocking ZENii supplements on The Skin Nerd store. 
What Is ZENii? 
ZENii was founded by Dr. Johanna Ward, an award-winning cosmetic doctor who is an expert in cosmetic dermatology and cosmetic laser among other things. Like us, ZENii believe that healthy skin starts within. 
The Shkin-ny On The ZENii Supplements We're Stocking
There are 4 ZENii supplements that we have specifically chosen to stock on The Skin Nerd store...
ZENii Boost - Hair, Skin & Nail Formula
This supplement is a powerhouse for boosting collagen and keratin production. Keratin is the substance that keeps our hair from breaking and our nails hard - it also is a key component in the make-up of our skin. 
They contain:
Biotin, which is known to promote hair growth
Zinc, as white marks on nails are a sign of zinc deficiency - fab for congestion-prone skin 
Vitamin C, to aid in the skin's production of collagen and for antioxidant protection 
Vitamin D... and lots of it! 
Silica, which is essential for rebuilding collagen 
Selenium, protects skin from oxidative damage which can lead to accelerated ageing 
ZENii Boost contains 60 capsules and is €25 on our store. 
ZENii ProClear 
You can probably guess by the name what these supplements are for... These are skin-clearer supremes for those who suffer from acne, rosacea and inflammatory skin conditions. They are like a full skin treatment for your insides due to how much they contain - we honestly don't know how they get it all in there. 
They contain: 
Vitamin A, which repairs the DNA of skin cells 
Vitamin C, which helps us to produce collagen
Vitamin D, which contributes to skin cell growth
Vitamin E, a potent antioxidant
Vitamin B1, B2, B7 & B12, essential vitamins for skin hydration and general health
Zinc, magnesium & selenium, which are just all around great minerals 
Omega-3 (flaxseed oil), which aids barrier health 
Bromelain, which is a digestive enzyme from pineapple, also brings down inflammation
Probiotics, which balances gut bacteria 
ZENii ProClear contains 60 capsules and is €40 on our store. 
ZENii ProCollagen 
From 25 onwards, the rate of collagen that our skin produces starts to decrease, hence why our skin isn't as plump and juicy as it was in our teen years and our early twenties... All good things come to a slow down, as they say. These fab supplements help to up your collagen production within the skin! 
They contain: 
Hydrolysed marine collagen (from fish) that supports our own collagen and improves the elasticity of the skin 
Vitamin C, which as you MUST know by now, feeds the skin so that it can create more collagen 
ZENii ProCollagen contains 120 capsules and is €40 on our store. 
ZENii Probiotics
Got a gut? You need probiotics. Probiotic supplements balance out the bacteria that make up our gut's own little bacterial community. Many believe there to be a link between gut health and skin health - we certainly do.
Ideal for those with IBS, bloating, acne, rosacea, dullness - if you're living life (ie. drinking alcohol, caffeinating yourself, not eating as well as you could be), these should be part of your routine, as all of these factors can contribute to an imbalance of bacteria in your digestive system.
It contains: 
Probiotics... specifically, 30 billion gut-friendly bacteria of 8 different strains to support your gut in lots of different ways. 
This probiotic gives you the equivalent of 40 pots of probiotic yoghurt but without the added sugar, dairy and fat.
ZENii Probiotics contain 60 capsules and is €40.00 on our store. 
We're so happy to have these phenomenal supplements with us at The Skin Nerd - please contact us through virtual nerdie chat (the bubble in the bottom right hand corner) or at consult@theskinnerd.com.