The Skin Nerd Podcast: Ep. 1 - The Skin Is An Organ - Jennifer Rock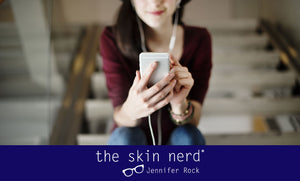 It's time... We've been promising it and now it's here! In our debut episode of The Skin Nerd podcast, Gráinne, Team Nerd education co-ordinator, asks Jennifer all the skin questions you want answers for and gets under the skin of The Skin Nerd!
Listen below for Jennifer's morning skincare routine, the worst thing herself and Gráinne have done to their skin and more singing than you'd usually expect from a podcast:  
First access is exclusive to you beautiful Nerd Networkers so enjoy getting the secret shkinny before anyone else! We have so many phenomenal guests lined up for Jennifer to interview so keep your peepers peeled for more soon...