Unusual Uses for the Cleanse Off Mitt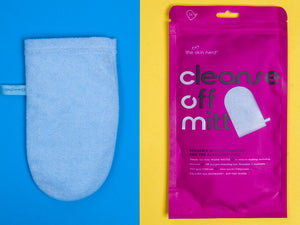 The Cleanse Off Mitt is a friend in need - our first COMpanion in the morning, and with us as part of our sacred nighttime skincare ritual too. There's nothing a hooman and COM can't acCOMplish together, and as a Nerd Networker, you're very familiar with the Cleanse Off Mitt.

Our COMs are gloriously reusable, and we recommend replacing your Cleanse Off Mitt after three months. Of course, if you're cycling your Cleanse Off Mitts in and out, you're guaranteed to get more wear out of them, but when you suspect it might be time to move on, your next COM is only as far as your nearest stockist (and those are blimmin' everywhere) or a click away.
How To Use Your COM

Most of us know the drill by now - and we even have a handy infographic to help you out if you're seeking a bit of clarity. 
Saturate your COM in warm water, and sweep it in gentle circular motions from your nose outwards, taking care to remove your eye-makeup and lip products too - the humble COM can handle it all. 

If you don't wear makeup yourself, the Cleanse Off Mitt is still ideal for your pre-cleanse, and will remove more than merely makeup. Over the course of your day on planet Earth, your skin is subjected to pollution, as well as excess oil production from your own skin - and even your friendly SPF could conspire to block your pores and cause congestion if you're not diligent about removing it at day's end. 

Alternative Uses For Your COM
The COM is great for cleansing your face - but did you also know that it's perfect for cleaning the other precious things in your life - like your children?

It's true; the Cleanse Off Mitt is baby-approved, and loved by new mums looking for a handy, portable cleansing product for keeping baby clean on the go. 

Also it's not just your makeup that it'll remove - if baby is all grown up into a kiddo who spends their weekends tearing around in facepaint, the COM is perfect for taking that off, nice and easily, without using face wipes - famously unkind to delicate skin!

The Afterlife of the COM
If, however, the dreaded day has come that your COM is in need of a replacement (to be fair, our new editions come in a hot-pink reusable pocket so it won't be the worst day of your life), your COM love story doesn't need to come to an end.

Here's a few alternate uses for your Cleanse Off Mitt!
You can use it to clean your computer screen. The microfibre COM will do a smashing job.


On the office subject, it's also fantastic for cleaning down your keyboard, and collecting any debris stuck in your keys. You'll be able to eat your dinner off of it (but please don't).


Get your trainers in squeaky-clean condition - our Nerd & Nerdette team particularly swears by a good COM when it comes to keeping white trainers looking lively for longer.  


In a pinch, your COM could be the ideal helper in times of instant-tan trauma. No tan-mitt to hand? No problem!


Makeup tidy: Hang your COMs up and fill them with your makeup bits for extra storage and interior design, combined.


Keep your sunglasses safe(ish) and squeaky-clean.


Avant-garde art: Why not collage your used COMs? We recommend recreating the Cullen family wall of graduation caps from Twilight. Remind yourself of how much good cleansing you've done (If you do this and provide evidence, we will give you a year's supply of COMs).


Use two COMS as slippers for really small feet.


Ideal as a cat toy for adventurous kittens.



COMs make great detachable pockets for your favourite winter coat.
However you choose to reuse it, the handy Cleanse Off Mitt will go on working for you, whatever way it can!
You can get yours from your local stockist or online.