Which Mineral Makeup Is For You?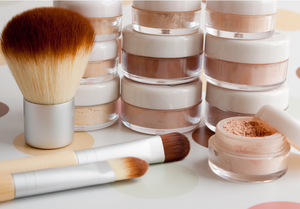 Team Nerd is evangelical about the benefits of mineral makeup. We love to look our best, and even the most nerdie complexion can sometimes enjoy a bit of va-va-voom, courtesy of the contents of our makeup bags. 
But while we understand the allure of cosmetic makeup, we have to turn your attention to our mineral MVPs. The nerdie philosophy is of course, inside, outside, and on top - and makeup very much counts, when it comes to on top! 
The problem with cosmetic makeup is that it can be comedogenic, meaning it can lead to open comedones (blackheads) or closed comedones (whiteheads) - not good, since we're usually trying our best to smooth out imperfections with the help of makeup. They can also contain talc, which dries up oil on the surface of the skin. It's believed by some that this dehydration leads to the skin over-correcting and prompting the skin to overproduce oil in response, and whole vicious, oily circles goes on and on. 
As part of your Nerd Network consultation, your Nerd or Nerdette might have discussed makeup with you. We are hyped about mineral makeup - it sits on the pore due to its molecular size, not in the pore like cosmetic makeup.
And helpfully, oil binds to minerals which is good news for the oily hoomans, as it means that it creates a flawless base that isn't powdery and will stay on the skin more easily.
Best of all - common mineral makeup ingredients like zinc oxide and titanium oxide are natural UV filters, and provide a bit of extra antioxidant protection!
Síle Seoige is a big fan of mineral makeup, as is Cindy Crawford and Emma Watson! 
But which mineral makeup is for you? Take our adorable quiz and find out…
You wear makeup …
Most days and when I head out after work, too!

To work, and then off it comes straight after!

Not a lot, but I like a little something…

Every hour that God gives and beyond that too, if possible

Regularly enough that I want something really good for my skin!




How much time do you have to do your makeup?
The usual amount of time - before I leave the house and touch-ups before I head off from work!

Not a huge amount, to be honest - bus is good enough!

If I have EXTRA time I put it on, but generally I don't!

Bus or bathrooms, as long as it takes!

I make time to do a good job!
Different products offer different amounts of coverage over skin. To me, coverage is...
Of middling importance.

Not massively important - just a touch is enough.

Not important, but a glow is. 

Very important!

Important, and I like to build it up!
Okay, amount of products you like to carry?
Base, mascara, eyeliner, brows, blush, lippie - maybe bronzer and a highlight? Just minimal, y'know 

Mascara, base, brows - a delish lipbalm, maybe, but I'm busy. Frame that face! 

A bit of base, highlighter and mascara if I'm feeling wild

I carry a lot of utilitarian products to keep things under control through the day!

I can carry a bag full of products, and don't mind if they're doing a good job. 
Most 1s:
This mineral makeup range comes in 9 shades, and you can choose from either a dewy or matte finish. In our opinion, it works really well as a base for heading to work, and for night-time too, with a touch-up if needed! It provides buildable coverage, and is 100% mineral, so your skin is not smothered underneath it! 
It contains hyaluronic acid and skin soothing aloe vera extracts, and also an SPF 50 PA+++ which makes excellent skin sense!
You can grab it on The Nerdie Store!
Mostly 2s:
Jane Iredale Glow Time Full Coverage Mineral BB Cream
This BB cream is a gorgeous mineral BB, ideal in our eyes for heading to work, particularly if you like a liquid texture, and want something that's low-fuss! This mineral BB cream is also full-coverage, but you might need to put some mineral powder on top to keep it matte all day. 
We suggest applying with clean fingers to get the desired coverage. It's got a built-in SPF, depending on which shade you choose, and helps to diminish the appearance of acne scarring and pigmentation, as well as infusing your skin with a delightfully mineral glow.

Aimee Connolly Sculpted Beauty Base 
This base is ideal if you want to go bare-faced but fancy getting that glow on.
It works as a moisturising primer and can be mixed with foundation if you like! It's SPF 30 for UVA and UVB protection, as well as containing hyaluronic acid for skin hydration, peptides for plumping, and no flashback. Ideal for on-the-go or for just before you leave the house. You're glowing, honey. 
Glamazon alert! You're a hooman who means business! 
This is for the hooman who loves a beauty hall foundation and adores Marian Keyes' beauty advice. You might be wondering how on earth puny mineral makeup could ever measure up to your cosmetic loves, but that's where Glo comes in. 
This full-coverage foundation is semi-matte, and contains a blend of antioxidants including vitamins A, C, and E. It's non comedogenic, despite giving such amazing coverage. It's ideal for transitioning from cosmetic to mineral and keeping yourself as high-fashion as ever.
Fuschia 5g Loose Mineral Powder
Fuschia powder is ideal if you've already begun to use a powder form of foundation, but would like to continue or to use a form which does not use chemicals, preservative, alcohol, or dyes. Fuschia is also vegan friendly, and provides buildable, full coverage in 7 shades. 
It requires a little bit of patience as the formulation is powder which needs to be applied with a buffing brush, but once you're used to it, it works an absolute treat - and provides excellent coverage, so don't be put off!
Mineral makeup has an outdated reputation as not providing good coverage and slipping off your skin, but this is no longer true! And as you can see, there truly is a mineral product suitable for everyone!