Plastic Fantastic or is it?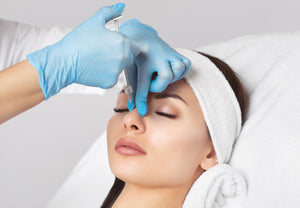 The face of beauty is ever-changing, but with the trend for tweakments and aesthetics becoming increasingly mainstream, what are the emotional costs? 
Along with antibacterial products and video calling, the 'Tweakment' market profited greatly from our time in Lockdown. Over the past three years, the market for non-invasive treatments such as filler and injectables has expanded enormously and is thought by many to be fueled by increased time spent on video conferencing calls, which inadvertently led to a vast number of us paying closer attention to our physical appearance. But it's not just demand for non-invasive treatments that has soared - the global aesthetic medicine market size was valued at USD 99.1 billion in 2021 and is expected to expand at a compound annual growth rate (CAGR) of 14.5% from 2022 to 2030.* Whilst we applaud the freedom and opportunity to take action over anything that helps them feel better inside and out, both the reasons behind the surge and growing nonchalance surrounding tweakments leave us feeling a little unsettled...   
The situation is a complex one and along with the trials of remote working, there are many other factors fueling the demand to take more drastic action with the areas of ourselves we are dissatisfied with. 'There are so many reasons why a person may choose to get tweakments,' observed Professor Caitriona Ryan of The Institute of Dermatologists, Ireland. 'Tweakments are minimally invasive cosmetic procedures and typically require little to no downtime, making them a convenient option for women with busy schedules. I think the most important motivator for most of us is to improve self-confidence and feel better about our appearance. Tweakments can help enhance a person's natural beauty without drastically altering their appearance. For example, dermal fillers can be used to add volume to cheeks for a more youthful, radiant look and to lift a sagging jawline. Tweakments also help maintain a more youthful appearance and slow signs of ageing by addressing fine lines and wrinkles, sagging skin and the loss of facial volume that occurs with age.' 
From building self-esteem to rising social status, it's rarely all about vanity, 'There is enormous social pressure on young women today to look "beautiful" and "perfect," largely due to the huge pressures of social media. Instagram and social media have had an incredible influence on recent trends in cosmetic procedures, particularly in the younger generation,' noted Professor Ryan. 'These young women have an unrealistic sense of reality, being bombarded daily with filtered, digitally enhanced images of flawless young girls with filled lips and there is huge pressure to conform to these idealistic, artificial portrayals of beauty.' One area that is particularly popular is lip filler. 'Having overfilled lips has become the new norm, almost akin to having the newest fashion accessory. Unfortunately, these are also the age-group of women who tend to be less cautious about where they go for dermal fillers, have less money to pay for high quality fillers with medical experts and often fall victim to disfiguring botched jobs by non-medical practitioners.' Indeed, social media helps new developments gain traction fast. For example, buccal fat removal, which involves removing fat pads from the cheek, is the latest trending treatment, favoured by celebrities such as Chrissy Teigan. The treatment has received over 257.8M views on TikTok and once this popularity is built, it often remains – think the still asked-for 'Brazilian Butt lift' that statistics show to be the dangerous surgery in recent years, or the draw of preventative Botox despite any solid scientific backing. Although plastic surgery has been around for decades, the number of people undertaking less invasive procedures is still new. Whilst previously, people may have tried to disguise any aesthetic work, it's now a social norm and described as part of a 'maintenance' routine. The more frequently you see something, the more normal it becomes but we are yet to understand the ultimate cost both physically and emotionally.  
A duty of care  
With almost two-thirds of Irish people (62%) stating that they would be open to trying or have tried anti-wrinkle injections such as Botox, according to new research, * the wide acceptance of aesthetic procedures is a great opportunity for Irish salons to get into the medi-aesthetic space. Education is also an opportunity, with more than half (51%) said they would be open to the treatment, with 29% saying they would like to and 22% saying they were unsure, but curious to try. 
Emotional support pre and post procedure are other areas that could be further developed. Many plastic surgeons have claimed to believe in the importance of saying 'no' to a client as a duty of care. Not everyone is an ideal candidate, for example those with unrealistic expectations or mental health conditions such as Body Dysmorphia Disorder. In these cases, carrying out a thorough psychological assessment before any surgery is crucial. Studies suggest that people who struggle with their psychological health can feel pressured to turn to 'quick fix' procedures to improve their appearance, but surgery can lead to depression in patients who are not properly screened beforehand.  
What is body dysmorphic disorder?  
People who strongly perceive imperfections within themselves may suffer from body dysmorphic disorder (BDD). This psychological disorder is characterized by an obsessive fixation on a perceived physical flaw. It affects between 1.7% and 2.4% of the general population. 
In many cases, people with BDD will seek out multiple plastic surgery procedures and are usually unhappy with the results. This has meant that sometimes plastic surgeons will not operate on people with BDD. 
If you feel very negatively about your physical appearance, it is advised you consult your GP or mental health professional about body dysmorphic disorder. 
The SKINday Times Verdict 
At The Skin Nerd, we prioritise a 360 approach to skin health, which means taking care of the skin on the inside, outside and on-top. Plastic surgery and aesthetic tweakments are a personal choice and have the potential to have positive or negative consequences dependent factors such as your reasons for undertaking the procedure, where you go and the aftercare you receive. All we ask is that you do your research beforehand, so you can make a fully informed decision before committing to treatment.  
Plastic Surgery: The Stats 
The global Plastic Surgery market size is predicted to reach USD million by 2028. 
The top five most popular surgical procedures are liposuction, breast augmentation, eyelid surgery, rhinoplasty, and abdominoplasty.  
The top five non-surgical procedures are botulinum toxin, hyaluronic acid, hair removal, skin tightening, and fat reduction. 
Breast augmentation remains the most common surgical procedure for women.  
Face and head procedures increased by 14.8% with eyelid surgery being the most common procedure, and the most popular surgical procedure among men.  
If you wish to seek professional advice, please contact Professor Caitriona Ryan and Professor Nicki Ralph at The Institute of Dermatologists, Ireland (instituteofdermatologists.ie) for more information.  
Sources 
* Phorest Salon Software