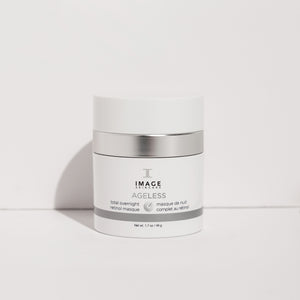 Retinol, Marine Collagen, Citrus (Medica limonum leaf cell) extract, Plantago Lanceolata Leaf Extract, Palmitoyl tripeptide-5, Tamarindus Indica Seed Polysaccharide.
For an accurate listing of ingredients in each product, please refer to your product packaging.
Great masque
I use it 2x per week now. In the beginning I had the feeling that this making my skin dry. Finally now my skin likes it. After 5 weeks and 2x per week usage I cannot see any difference where I would say wow. Maybe needs more time or is only helping the rest of a good skin care routine.
IMAGE Ageless Total Overnight Retinol Masque (48g)
Excellent service
Amazing service made it so easy thank you
IMAGE Ageless Total Overnight Retinol Masque (48g)
% retinol
Hi, i was wondering if anyone knew thw % retinol in this serum as doesnt state in the ingredients?
This overnight retinol masque is formulated with water bank technology to continually release hydration and lock in nutrients for the ultimate beauty sleep.
This masque contains:
Retinol to prompt skin renewal, proliferation, and to heal and control sebum
Marine Collagen to help renew skin's ability to retain moisture and suppleness
Palmitoyl tripeptide-5 to assist in the appearance of skin firmness
Plantago Lanceolata Leaf Extract for anti-inflammatory, anti-bacterial and free radical scavenging properties

This masque is helps to support collagen synthesis while preventing moisture loss from the epidermal layer of the skin.
It's particularly suited to hoomans with normal skin, ageing skin, or pigmentation.
How to use: Apply masque in a thick, even layer to freshly cleansed skin 2-3 times per week. Leave on overnight and cleanse skin with tepid water the following morning.
Paraben free!