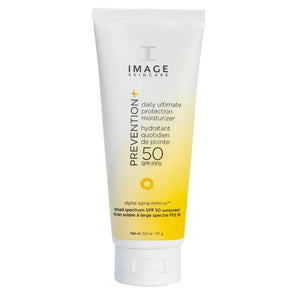 IMAGE Prevention+ Ultimate Hydrating Moisturiser SPF50
IMAGE Prevention+ Ultimate Hydrating Moisturiser SPF50
Great to deal with and quick delvery
IMAGE Prevention+ Ultimate Hydrating Moisturiser SPF50
Disappointed
Image moisturiser used to be easy to apply but now its very difficult to rub in. It sticks to your skin instead of being easily applied like it used to be
New Formula
Over-the-counter products only treat the skin's surface layer. Optimal skin health is achieved by reaching live tissue. IMAGE Skincare professional products work at a cellular level to treat fine lines, fade sun damage, increase hydration, control acne and stimulate cellular turnover for more youthful, smoother looking skin.

This sheer daily moisturiser delivers SPF 50 broad-spectrum protection against the sun's harmful UVA and UVB rays. The modernised formula with Digital Aging Defense helps to fight against the effects of blue light and environmental skin stressors that cause dryness, discoloration and other signs of aging. A specialised pea protein helps to defend against the elements that age our skin, indoors and out.
The lightweight formulation has you covered for indoors, outdoors or in high sun exposure. Thoughtfully formulated without the sunscreen actives octinoxate and oxybenzone, and free of parabens and artificial fragrances.
Benefits:
High UVA/ SPF 50 UVB broad spectrum sunscreen
Water resistant
Contains plant-derived stem cells to extend the longevity of skin cells
Paraben free
How to use:
Apply 30 minutes prior to sun exposure and reapply regularly or after prolonged swimming and vigorous activities.