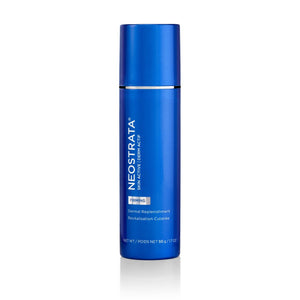 Love Neostrata Replenish
A while back I switched from this moisturiser to Obagi Hydrate. I came back to this moisturiser because for my combination skin it is far better.
Great nighttime moisturiser
Really good for colder weather and dehydrated skin. Smell can be strong initially but does not linger. Would purchase again.
So soothing and moisturising
I use this as the final step in my night time routine typically after Environ AVST. It feels lovely on the skin, not too rich but very soothing and moisturising. It is visibly plumping and I find a noticeable difference on my neck as everything is more hydrated without being greasy.
Just started using this. It's like silk. Also great service from skin nerd. Ordered lunchtime Friday for Saturday morning
Use nightly
A lovely cream to use nightly.
This deeply hydrating face cream contains skin's amino acid building blocks and natural sugars called Natural Moisturizing Factor (NMF) to attract water and help strengthen the skin's moisture barrier.
This cream contains: 
Amino l® technology works together with peptides to build skin's natural volume, visibly reducing the appearance of lines and wrinkles.
NeoGlucosamine® helps to plump and firm the skin and diminish the appearance of uneven pigment and dark spots.
Chardonnay Grape Seed Extract, to help prevent damage from daily environmental stressors.

This cream is ideal for helping to reverse the signs of dehydration, and to help diminish the signs of premature ageing. 
Suitable for hoomans with dehydrated skin, and hoomans seeking to prevent premature ageing. Also suitable for protecting and nourishing mature skin, and tackling pigmentation and skin laxity.