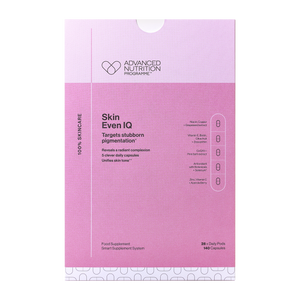 Carefully calibrated and researched, Skin Even IQ is a science-led smart supplement system which helps target stubborn pigmentation*. Cleverly packaged in protective pods, this daily dose system of five clever capsules containing 25 different ingredients to help target pigmentation. 
NEW Skin Bright - new fusion team of balancing actives including niacin, copper, l-cysteine, liquorice extract, grape seed, grape pomace, vitamin C and olive fruit extract all encased within red capsules made from red radish.
Skin Blue Filter - shields your skin from within with a team of specialist antioxidants.
Skin Co-Q10+ - blend of co-enzyme Q10 and pine park extract.
Skin Vit C - vitamin C, zinc and acerola berry for radiant, bright complexion. 
Skin Antioxidant - safeguards skin against external aggressors**
What does it deliver? 
Targets signs of pigmentation 
Reveals a radiant complexion
Evens skin tone
Brightens skin
Head to toe skin solution 
Convenient, daily dose pods to ensure compliance
Helps regulate melanin production