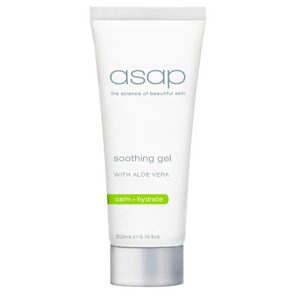 Key ingredients
Aloe Vera: soothing, hydrating
Pepper Berry: anti-inflammatory
White Tea: antioxidant, anti-inflammatory
Melissa Officinalis (Balm mint): soothing
Sage: anti-inflammatory
Allantoin: anti-inflammatory
Contains alcohol
Pros - massive bottle & quick drying gel.
Cons- contains alcohol denat & leaves skin feeling tight.
Good soothing product
I used ASAP gel following treatment for sun damaged skin and found it very helpful.
I've been using this gel since last July. One bottle lasts ages!! I get alot of redness and puffiness around my eyes and my skin is super sensitive to chemicals. This gel alone has reduced redness, puffiness and is so great out of the fridge if you are a little tired. It can be applied directly around the eye area and anywhere on the body. It's my number 1 ✌️
Note: We are unable to ship ASAP Skincare products outside of Ireland and the UK.
ASAP Skincare Soothing Gel combines natural ingredients Aloe Vera, Pepper Berry, Sage and White Tea to protect, soothe and calm skin. This water-based formulation is an ideal moisturiser for oily, acne-prone and inflamed skin. May be applied following microdermabrasion, IPL, laser treatments, waxing and shaving.
The anti-inflammatory properties of Aloe Vera, White Tea, Pepper Berry, Allantoin and Sage help to heal, calm and soothe the skin, while reducing the appearance of redness and irritation.
The water-based gel formulation hydrates without adding oil, making it an ideal moisturiser, particularly for oily skin.
Ideal for soothing skin following shaving, IPL and Microdermabrasion.
Helps to protect skin against the damaging effects of daily pollution.
Suitable for all skin types.