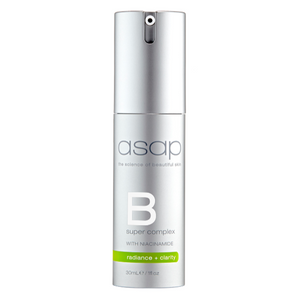 Key ingredients
Niacinamide: vitamin B3, brightening, soothing, antioxidant
Crosslinked Hyaluronic Acid: supreme lasting power and hydration
Red Clover Flower: noticeably refine pores
Liquorice Extract: brightening, calming
Vitamin B5: panthenol, improves skin tone
Vitamin B9: folic acid, improves skin tone
Resveratrol: super potent antioxidant
Apply to face and neck in the morning, prior to other serums. Apply in the evening prior to your vitamin A serum. Alternatively, pre-mix serums prior to application.
Super serum
Feels lovely on its own or mixed with other serums. Just the right amount of moisture and lasts a while.
ASAP Skincare Super B Complex
Fantastic product! Has transformed my skin!
Excellent product
Love it! Makes my skin feel great.
ASAP Skincare Super B Complex 30ml
Gorgeous serum
Love this serum, if smells gorgeous and goes a long way.
Note: We are unable to ship ASAP Skincare products outside of Ireland and the UK.
ASAP Skincare Super B Complex  is a fast-acting, multi-functional serum that increases skin hydration, calms and visibly reduces redness. A high concentration of Niacinamide targets pigmentation, while Red Clover helps reduce the appearance of pores and Liquorice brightens skin. 
Contains a high concentration of Niacinamide (Vitamin B3) to boost collagen production and reduce pigmentation.
Crosslinked Hyaluronic Acid provides 5 times the moisturising power and 50 times the moisture retaining properties of traditional Hyaluronic Acid to substantially boost skin hydration.
Red Clover Flower Extract helps to noticeably refine pores.
Vitamins B5 and B9 help improve skin tone and visibly reduce the appearance of fine lines and wrinkles.
Licorice Extract calms, soothes and brightens the complexion.
Helps to regulate sebum (oil) production and the reduce appearance of redness, even in acne type skin.
Helps to protect skin against the damaging effects of daily pollution.
Suitable for all skin types.
Fantastic for those with any redness, irritated skin, or dry or dehydrated skin, and suitable for irritated or inflamed acne or congestion. 
Vegan-friendly, cruelty-free, pregnancy-safe and gluten-free.