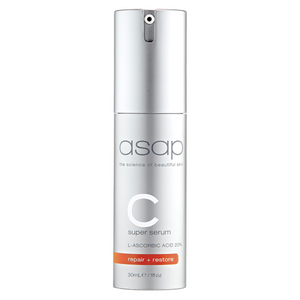 Key ingredients
Vitamin C: 20% pure L-ascorbic acid, optimum amount for collagen production and tackling pigment
Pycnogenol: antioxidant
Idebenone: antioxidant
Apply each morning after cleansing/exfoliating. Allow asap super C serum to penetrate the skin before applying your moisturiser or SPF.
Fabulous
This serum is my favourite. Because of silky texture and immediate result.
It's wok like exfoliant as well for me. My dead skin cells rolling off nicely. Buying it again and again.
Asap super c serum
This is a lovely serum , glides on so easily and leaves a tingley feeling for a few minutes. I really noticed a difference in my skin it looks so bright. Only downside is it seems to leave some orange streaks sometimes but I may have been using too much?
Love this product
A fabulous serum, feels so hydrating and nourishing!
Note: We are unable to ship ASAP Skincare products outside of Ireland and the UK.
ASAP Skincare Super C Serum combines a high concentration of Vitamin C to stimulate collagen production, with powerful antioxidants Pycnogenol and Idebenone. Formulated to help reduce the appearance of premature ageing caused by the harmful effects of UV light and environmental pollution. Regular use promotes skin radiance, brightness and clarity.
Contains a unique combination of three of the most powerful antioxidants, Vitamin C, Pycnogenol and Idebenone.
Scientifically formulated to reduce the visible signs of premature ageing caused by the sun and other environmental aggressors.
Promotes a brighter, more even skin tone.
Helps protect against the damaging effects of daily pollution.
Suitable for all skin types.