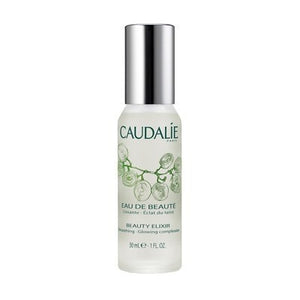 Caudalie Elixir
Its gorgeous....makes your skin feel so fresh,the smell is divine and it's great to finish off your makeup.
Will definitely buy again.
Thank you.
Brilliant
Great, I really like the elixir. I use it as the last step for my morning routine, during the day there and there and as the last step in the evening routine. Shipment was super quick.
I'll deffo purchase again.thanks
Caudalíe's Beauty Elixir (30ml) is a beauty enhancing mist, the secret of the stars and make-up artists. It has many benefits:
Smooths away fine lines
Tightens pores
Sets make-up
Gives a boost of radiance
It contains: 
Glycerin (hydrating) 
Rose flower oil (soothing, antioxidant-rich) 
It is ideal for boosting skin hydration throughout the day, setting and refreshing makeup and cooling the skin down. 
Jenn's Nerdie Bit 
Spritz O'Clock, anyone?! This mini can be popped in your bag, in your car, on your desk in work... You can spritz wherever and whenever you like. 
Vegan-friendly