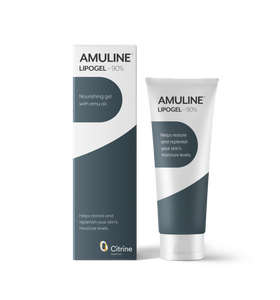 Citrine Health Amuline Lipogel
Amuline Lipogel is a nourishing gel for acute dry skin with Emu Oil.  Emu oil is an active substance containing a combination of omega-3, omega-6 and omega-9 that help to restore lipid metabolism and skin barrier function, resulting in an effective anti-inflammatory, soothing and repairing action. Amuline Lipogel helps to lock in moisture and improve the appearance and symptoms of acute dry skin during flare ups. Suitable for people with dermatitis, eczema, psoriasis and rosacea.
Amuline Lipogel is recommended be used alongside Amuline Nourish. Daily use of emollients, applied liberally, will moisturise, hydrate and help maintain the skin barrier to maintain healthy skin.
How to use:
Apply morning and evening, or more frequently as needed in severe dry skin areas only.
Features
Emu oil 90%
Anti-oxidant Vitamins A,C&E
30ml
Benefits
Restores skins nourishment levels
Replenishes the lipid barrier
Locks in moisture
Improves the appearance of dry skin
Suitable for people with dermatitis, eczema, psoriasis and rosacea