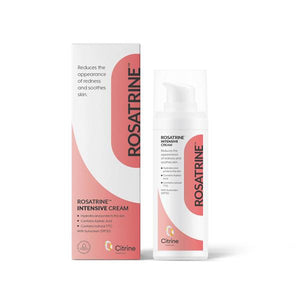 Rosatrine Intensive Cream
I wasn't expecting the grainy feel of the cream but once rubbed in it felt lovely on the skin and my face looked so fresh, after a good few weeks of using it the redness has calmed down a lot, my skin tone is more even, fine lines are less noticeable and makeup sits better, I have my next bottle at the ready as I don't want to run out, I'll be using this product for a long time to come!
Citrine Health Rosatrine Intensive Cream 
Reduce the appearance of redness and soothe skin.
Description:
Rosatrine Intensive Cream is suitable for redness prone skin during flare ups. It contains Azelaic acid which acts as a powerful anti-oxidant to help hydrate and protect the skin surface. Tea Tree Oil helps to soothe the skin and the Green Pigment helps to alleviate the appearance of redness.
It is recommended to be used with Rosatrine Light cream which acts as maintenance cream to help manage the symptoms of redness on a daily basis.
Dermatologically tested on sensitive skin.
Features
Azelaic Acid
Natural Tea Tree Oil
Panthenol
Green pigment
30ml
Airless pump
With SPF30
How to use:
Use once or twice daily on areas of flare up. Azelaic acid can cause sensitivity so use a small amount at first and increase with tolerability.
Benefits
Suitable for redness prone skin
Powerful anti-oxidant
Hydrates and moisturises
Protects the skins surface
Dermatologically tested on sensitive skin