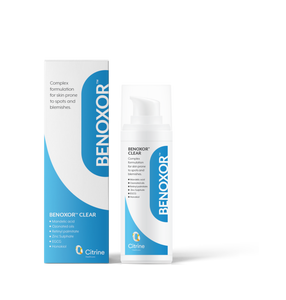 Citrine Health Benoxor Clear Cream
Benoxor Clear Cream
Diminish the appearance of excess oil and blemishes
Description:
Benoxor Clear diminishes the appearance of excess oil and blemishes. It is suitable for acne prone skin and it helps to hydrate and moisturise. It contains Mandelic acid and Retinyl Palmitate that help to exfoliate and smooth the skin, and Ozonated Oils to help improve the appearance of blemishes.
Features
Mandelic Acid
Lactobionic acid
Retinyl palmitate
Zinc Sulphate
Ozonated oil
Camellia sinensis extract
30ml
Airless pump
How to use:
Use once or twice daily.
Benefits
Supports your skins natural barrier
Hydrates and moisturises
Suitable for acne prone skin
Reduces the appearance of blemishes
Smoothes skin