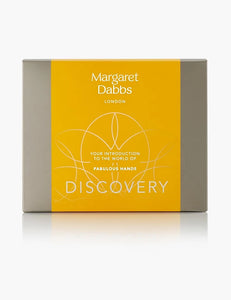 Discover our capsule collection of best-selling products for beautiful hands. The stylish kit includes travel-size versions of the Intensive Hydrating Hand Lotion, Nourishing Hand Wash, Exfoliating Hand Scrub, and Hand Sanitiser. Key ingredients of Hemp Seed Oil, Seaweed Extract, and White Water Lily work to visibly reduce signs of ageing, hydrate, and protect all skin types. Perfect for your handbag or gym kit, traveling, or as a fabulous gift. The perfect gift idea for someone who deserves some pampering. Add a personalised message at the checkout and we will include this on a handwritten postcard.
Nourishing Hand Wash 45ml: A rich, foaming hand wash to gently cleanse, hydrate, and soften the skin. With Hempseed oil, Olive oil, and Turmeric extract to moisturise, soothe and protect the skin barrier.
Exfoliating Hand Scrub 30ml: Gentle creamy exfoliator that combines the buffing effect of Orange peel and Jojoba beads to effectively remove dead, dry skin cells and leave the hands hygienically clean. Restores moisture levels with Hempseed Oil, White Water Lily and natural plant extracts to boost skin's radiance. Beautifully scented with Geranium and Mandarin.
Intensive Hydrating Hand Lotion 45ml: A luxurious treatment-enriched hand cream uniquely containing anti-ageing ingredients Hempseed Oil, White Water Lily, and Kelp. Instantly hydrates and plumps the skin, improves skin firmness, elasticity and collagen levels and, boosts the skin's moisture levels. The hand cream is beautifully scented with Geranium and Mandarin and is gorgeous to use.
Hand Cleansing Gel (Hand Sanitiser) 30ml: Hydrating Hand Cleansing Gel to keep your hands hygienically clean whilst on the go. Uniquely enriched with Hempseed Oil and White Water Lily to boost hydration, and with the gorgeous scent of Geranium and Mandarin. Leaves hands feeling clean, fresh, and hydrated.