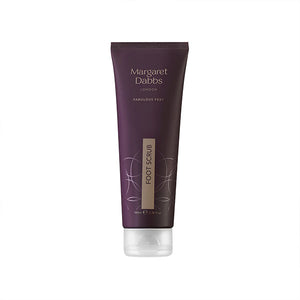 Margaret Dabbs Exfoliating Foot Scrub
Never underestimate the benefit of using this foot scrub to bring dull, dry skin and problem feet back to life. This rich, creamy Exfoliating Foot Scrub with ground tea tree leaf and pumice will remove dead dry scaly skin from the feet whilst replenishing the skin with moisture. It will help to keep away the symptoms of Athlete's Foot and can be used all over the feet and between the toes, leaving the skin looking brand new, refreshed and replenished. With one use you will see a visible difference.
With ground Tea Tree Leaf and Pumice, this concentrated rich, creamy textured foot scrub will buff feet to perfection. The active ingredients help to remove the layers of dead skin, leaving your feet looking radiant and replenished. Use the scrub in the bath or shower after first filing your feet (on dry skin) with our Professional Foot File, and follow up with the 'Miracle in a Jar' Foot Hygiene Cream for incredible results.
Results
Brightens and renews dull lifeless grey skin

Helps to treat the symptoms associated with Athletes Foot

Reduces irritation and itchiness between the toes

Perfect as a hygiene measure for sweat prone feet

Antibacterial and anti-fungal properties
Suitable for:
 All skin types
 Men and women
 Diabetics
 During pregnancy
Please note that this product has been renamed, and was formerly known as the Exfoliating Foot Mousse.
Apply a small amount of Exfoliating Foot Scrub to your wet hands and rub it in all over the foot concentrating first on the heel and ball of the foot, and then taking it in-between the toes, across the nails and to the top of the foot. Add more water to facilitate the scrub to move more freely. Use lukewarm water to remove the foot scrub.
Suitable for all skin types, during pregnancy, diabetics, men and women.
Contraindications
If irritation occurs discontinue use.