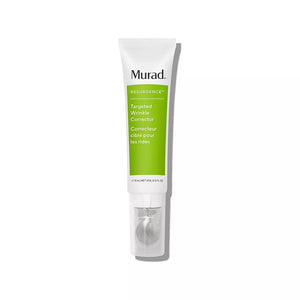 Murad The Sustainable Edit - Targeted Wrinkle Corrector
The instant wrinkle fix you need! When you can't make it to the dermatologist for a filler, this powerful peptide-meets-hyaluronic treatment virtually erases the look of wrinkles by visibly smoothing and reducing wrinkle intensity instantly.*
Immediately upon application:
100% showed visible improvement in wrinkles (glabella lines, AKA elevens).
96% saw smoother texture on applied areas.
88% agree facial expression lines look smoother.
84% would consider using this product instead of a filler.
80% agree wrinkles look less deep and less noticeable.
80% agree treated areas look more plump.
80% feel less stressed about aging and feel more confident about their appearance.
Immediately upon application and clinically proven results via instrumental measurement:
21% reduction in forehead wrinkles.
23% reduction in glabella lines (AKA elevens).
90% showed improvement in the look of forehead wrinkles.
100% showed improvement in the look of glabella lines (AKA elevens).




How to Use:
AM or PM Apply to clean, dry skin. Gently squeeze product out and tap into wrinkle with the metal side. If needed, use ring finger to tap into wrinkle. Let dry.
Where to apply:
Elevens/between the brows (glabella lines). Forehead lines. Crow's feet/orbital bone. Sides of mouth. Top of mouth.
Works like an instant filler with highly bioavailable hyaluronic acid, flooding wrinkles—even deep-set, stubborn lines—with hydration to plump, smooth and reduce wrinkle intensity on contact. Elasticity-boosting hexapeptide helps skin bounce back from lines triggered by facial expressions, plus plant-derived squalane prevents moisture loss to help skin resist future wrinkles.
Sustainability: This brand is certified Cruelty Free by PETA, therefore has committed never to conduct, commission, pay for, or allow tests on animals at any phase of development, for both ingredients and final products.