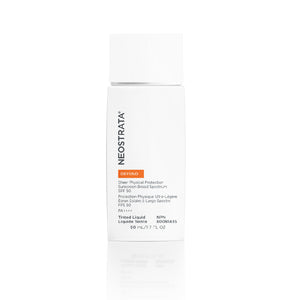 Neostrata spf
This spf is a little different than I expected, it feels a little greasy on the skin.I thought this would be a lot more sheer, while it does the job of protecting the skin and yes it's lightweight but I don't think I would repurchase.Also make sure and give this a really good shake before you use.
Neostrata spf
Best mineral tinted spf I've tried. Even with sensitive skin. It's my favourite by a mile.
perfect service thank you
Service
Got product in super fast time and also a great discount
Neostrata Sheer Physical Protection SPF50 PA++++ (50ml) is an ultra-sheer, mattifying treatment formulated to provide photostable, physical broad spectrum UVA/UVB protection with a sheer tint that blends with skin's natural tone.

Benefits:
PHA/Bionic complex protects and strengthens skin
Sheer tint blend with natural skin tone to provide mattifying finish
Potent antioxidants (green tea, lactobionic acid, vitamin E) work to neutralize free radicals
Lightweight, translucent, universal tint 
Ideal for everyone, but especially those prone to redness, sensitivity and congestion. 
Contains:
7% Titanium Dioxide/6% Zinc Oxide: mineral SPF filters
4% PHA Complex (Gluconolactone, Lactobionic Acid): hydrating, brightening
Vitamin E, EGCG (green tea extract): antioxidant protection
How to use:
Use 1/2 a teaspoon for your face, neck and ears daily and ideally, top up every 2 hours. Shake vigorously before use, and apply 15 minutes before light exposure.