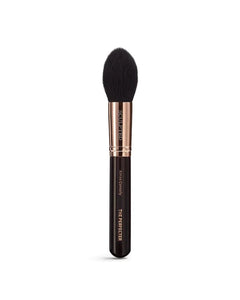 The Perfecter
How It Works
Use this to set your face with a setting powder, to naturally sculpt the cheekbones or to bronze your neck up.
Why You'll Love It
It's super soft and the angled tip makes it so easy to set underneath your eyes too without needing a smaller brush.
Cruelty Free & Vegan
FAQ's
1.How often should you clean your brushes? 
If only using them on yourself, we would suggest spot cleaning with a brush cleaning spray once per week. A deep clean is recommended using a gentle baby or brush shampoo at least once every 2 weeks for frequently used brushes like your foundation and then every 3-4 weeks for others. For makeup artists, you need to clean your brushes after every makeup application and also deep clean more regularly. 
Are your brushes cruelty free? 
Yes! All Sculpted by Aimee products are cruelty free. 
Do I have to use brushes? I've always used my hands. 
You don't HAVE to do anything with your makeup and some products apply really well with your hands. However, there are some things like eyeshadow blending, eyeliner and brows that you just can't do with your fingers and for those we would always suggest brushes. Brushes also help to make sure you dont waste too much of your products.