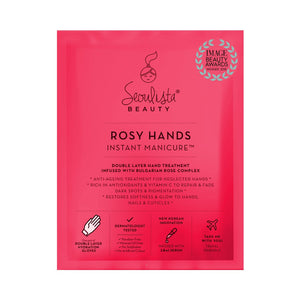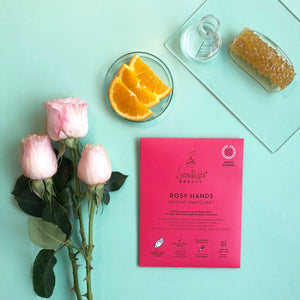 Rosy Hands
Felt just like a home manicure and left my hands so soft
Seoulista Rosy Hands
I love this product. I could feel all the products sinking in. It also feels like a real treat.
Seoulista Rosy Hands Instant Manicure is a double layer hand treatment infused with Bulgarian Rose Complex. This is a nourishing treatment for hardworking hands. Rich in antioxidants and Vitamin C to help fade dark spots and pigmentation. Restores softness and radiance to hands, nails and cuticles. 
Suitable for all hands!
Contains: 
Bulgarian rose oil: nourishing, hydrating
Vitamin C: antioxidant, brightening 
AHAs (alpha-hydroxy acids): exfoliating
How to use: 
Clean hands thoroughly. Remove the gloves from the pack and gently separate them. Smooth the gloves onto your hands and use the paper strap to secure. Allow the serum to infuse for 30 minutes before removing and disposing. Smooth the remaining serum into the skin. Do not wash off.
Extra tip - sleep in your hand mask to help remove fake tan stains.