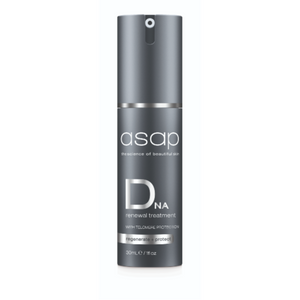 Key ingredients
Telomere Technology
Multi-Peptide Complex
Stem Cell Technology
HydroElastic Complex
Anti-Pollution Complex
Use nightly for skin with visible signs of ageing, alternatively 2-3 times a week to maintain a youthful appearance. Apply one pump to thoroughly cleansed skin after serums and prior to moisturiser.
Note: We are unable to ship ASAP Skincare products outside of Ireland and the UK.
ASAP Skincare DNA Renewal Treatment is a revolutionary anti-ageing treatment with unmatched concentrations of active ingredients, including telomere technology to assist in the repair of DNA damage and a multi-peptide complex to help restore skin firmness.
Self-regenerative stem cell technology and a hydroelastic complex, boost cell renewal and assist in restoring optimal levels of hydration and elastin. Anti-pollution complex protects skin from accelerated ageing and other damaging effects of environmental pollution.
Basically, all that you've been looking for. 
Cruelty-free, vegan-friendly, pregnancy-safe and gluten-free.