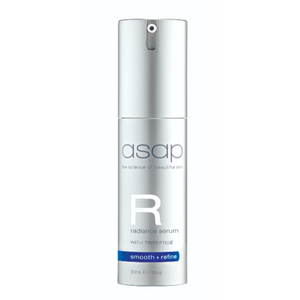 Key ingredients
Biomimetic Tripeptide: peptide that mimics skin's processes to encourage production of collagen and elastin
AHA/BHA Complex: boosts skin cell renewal
Bilberry Fruit Extract: brightening
White Tea: antioxidant
Mulberry Fruit Extract: brightening
How To Use
Apply in the evening to clean, dry skin or mix with other serums. If using the ASAP Skincare Super A+ Serum, use this on alternating nights with it.
Strong product
This is a good product that has made my skin look smoother and brighter. It has a sticky consistency but spreads very well and you only need a small amount, barely one pump. It is very very active and despite its instructions not stating to do so I would recommend using it 1-2 nights per week and build up your usage over time. I used it every night from the beginning and the skin on my neck became very dry, red and irritated. I reduced my usage, which allowed my neck to recover, and built it up slowly again. I would recommend this product.
Note: We are unable to ship ASAP Skincare products outside of Ireland and the UK.
ASAP Skincare Radiance Serum combines an anti-ageing Biomimetic Tripeptide, with powerful AHA/BHAs and skin brightening botanical extracts to increase cell renewal, rejuvenate skin and assist in the reduction of pigmentation, sun damage and acne.
White Tea, Bilberry and Mulberry provide antioxidant benefits and protect the skin from free radical damage, resulting in noticeably smoother and more refined skin texture. 
Increases cell renewal to assist in reducing fine lines and wrinkles.
Rejuvenates skin for a more youthful looking appearance.
Assists in the reduction of pigmentation, sun damage, acne and breakout.
Brightens dull, tired and ageing skin, leaving skin feeling smoother and more supple.
An effective tyrosinase inhibitor to assists in the reduction of pigmentation.
Encourages the production of collagen and elastin for firmer, younger looking skin.
Works overnight to help hydrate, repair and regenerate UV-damaged skin.
White Tea, Bilberry and Mulberry provide antioxidant benefits to help protect against free radical damage.
Suitable for all skin types, especially sun damaged, aged, acne and pigmented skin.