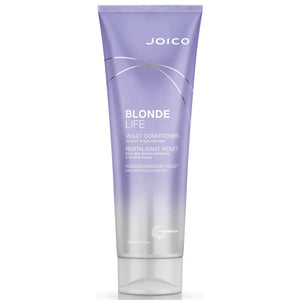 Joico Blonde Life Violet Conditioner
Keep your hair colour true for longer with the Joico Blonde Life Violet Conditioner. Infused by hair-loving ingredients, this potent formula feeds essential moisture deep into the follicle. With a rich consistency, the conditioner coats each and every strand, nurturing the hair from root to tip.
What's more, the conditioner has colour-balancing powers, nurturing the hair and neutralising the colour simultaneously. Thanks to a potent blend of brass-neutralising ingredients, the formula works tirelessly to cool yellow tones. Keeping your colour true for longer, the conditioner gives you more time between salon visits – saving you time and money.
As if that wasn't enough, the formula also graces the locks with a refreshing fragrance, as well as a dazzling shine. Leave the conditioner on for a couple of minutes to let it work its magic, transforming the tresses from dry and dull to soft and silky. Banish undesirable yellow tones and keep your blonde colour cool and icy with this innovative formula.