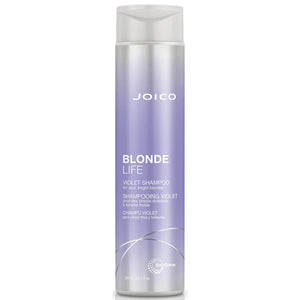 Joico Blonde Life Violet Shampoo
Keep your hair colour blonde and icy with the Joico Blonde Life Violet Shampoo. With a rich consistency, the shampoo quickly works into a thick lather, cleansing the hair. Uplifting any dirt, dead skin cells, impurities or build-up from the scalp – this shampoo detoxifies the locks from root to tip.
Thanks to a potent blend of brass-neutralising ingredients, the formula works tirelessly to cool yellow tones. Keeping your colour true for longer, the shampoo gives you more time between salon visits – saving you time and money. As if that wasn't enough, this shampoo is also sulphate free, gently but effectively cleansing the hair without stripping the strands of their essential moisture. Banish undesirable yellow tones and keep your blonde colour cool and icy with this innovative formula
Free from SLS/SLES Sulfates.