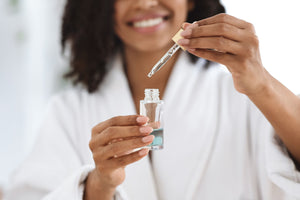 Glycerin has been relegated to the sides of the stage for too long, but it's about time this hero hydrator is promoted to prima ballerina in our skincare repertoires. With the power to replenish moisture without clogging pores or causing irritation, this lightweight active ingredient is well deserving of the spotlight.
What is glycerin?
Glycerin, sometimes referred to as glycerol, is a humectant: a "water molecule" that attracts moisture from the air and retains it within the skin. Glycerin has a low molecular weight, which means it can pull moisture from the stratum corneum, our outermost layer of skin, deep into the dermis, our middle layer of skin, to hydrate the lower levels. Humectants are essential for maintaining healthy, hydrated skin and glycerin is often recognised as the best of the bunch. Other humectants include hyaluronic acid – a hydrator we're sure most hoomans are familiar with – alpha hydroxy acids (AHAs), aloe vera and urea.
The glycerin in our skincare tends to be derived from plants, but did you know it's a naturally occurring compound within our bodies? Glycerin is present in our skin's natural moisturising factor (NMF), alongside a bunch of amino acids and other important components. In a nutshell, our NMF works hard to keep our skin adequately hydrated. Unfortunately, our skin's NMF can deplete as we get older or be stripped with regular use of harsh skincare products, which can result in tight, dehydrated skin. Glycerin can help to replenish the NMF, which in turn keeps the skin supple, soft and hydrated.
More nerdiness: Super Soothing Skincare Treats
Who is it for?
Glycerin has been inducted into my skincare "hall of fame" partly because it's a hydrator that all skin types can safely use. It's perfect for oily and acne-prone skin because it's non-comedogenic, which means that it won't clog pores or cause pesky breakouts. Nerdie tip: glycerin can be present in formulas that contain other comedogenic (read: pore-clogging) substances – so always check if the product has been labelled as non-comedogenic. What's more, glycerin is a very gentle ingredient, which means that it shouldn't irritate sensitive skin – unless you're one of the unlucky few that's allergic to the hydrator.
It goes without saying that dry skin types should get involved. Although, I would take it one step further and combine glycerin, the "moisture magnet", with a form of occlusive, such as shea butter, squalene or beeswax. Humectants work to replenish moisture levels within the skin, while occlusives reinforce the skin barrier to prevent precious moisture from escaping through the stratum corneum, the outermost layer of skin. Using an occlusive at night-time is especially important for dry or dehydrated skin – a skin condition whereby the skin lacks water – because more moisture evaporates through the skin as we snooze. This is a natural process called trans epidermal water loss (TEWL).
Skincare with glycerin
To be honest, glycerin might already be lurking in some of the skincare products that are sitting pretty on your shelfie. We'd bet our bottom dollar that if you check your products' INCI lists you'll notice glycerin – it's a mainstay in many skincare products and for good reason. I tend to find glycerin in my water-based cleansers and hydrating serums, mists and moisturisers.
Naturally, glycerin is the star ingredient in one of my favourite facial mists, the Caudalie Beauty Elixir. I adore spritz o'clock because it serves the skin an instant boost of hydration that can be enjoyed anywhere and everywhere – in the car, at your desk, at a restaurant. I find that the Caudalie spritz soothes my skin when it's dehydrated (read: tight, tired and dull) with its blend of glycerin and rose flower oil, an antioxidant that protects the skin from free radical damage caused by UV exposure and pollution.
Glycerin can feel sticky on the skin, which is why it's commonly combined with other humectants to provide a smoother texture. The Pestle & Mortar Hyaluronic Acid Serum contains glycerin alongside a moisture-boosting blend of low molecular weight sodium hyaluronate (aka hyaluronic acid), which can penetrate deep into the dermis, and aloe barbadensis leaf juice – which are both powerful humectants. It can be used on all skin types and has been formulated with a dash of vitamin E to provide antioxidant protection.
As I mentioned previously, dry and dehydrated skin will benefit from an emollient that's enriched with glycerin, as well as occlusive ingredients, and the Gilda Liljeblad Fortifying Barrier Cream ticks all the right boxes. It contains glycerin to hydrate, shea butter (an occlusive) to nourish and reinforce the skin barrier to prevent moisture loss, apricot oil (another occlusive) to relieve sensitive skin and strengthen the skin barrier, and niacinamide to increase collagen synthesis for plumper skin.

Are you tempted by glycerin's hydrating prowess? If so, and you'd like a little skincare guidance, why not book an online skin consultation with our team of expert Nerds – they'll build you a bespoke skincare routine suited to your skin, budget and commitment level. Plus, you'll become an official Skin Nerd Networker and have access to tonnes of exclusive content.